05/02/11. I had actually started this page on this car way back on 12/06/10 but as I'd started to strip it for parts for other cars I seen little point in continuing. However I might end up putting the car back on the road so thought I'd start again. Its a 1999 Panda that came originally from France. the woman who owned it moved to Southern Ireland and took the car with her. Last year the exhaust including the Kat fell off and she decided not to keep the car. A mate who worked for a Fiat dealer ended up with the car and passed it on to me. It had been my intention to put it back on the road, I even sourced a Kat for it, but over time I've been taking bits off it for other cars so it was getting less likely that it would be back on the road.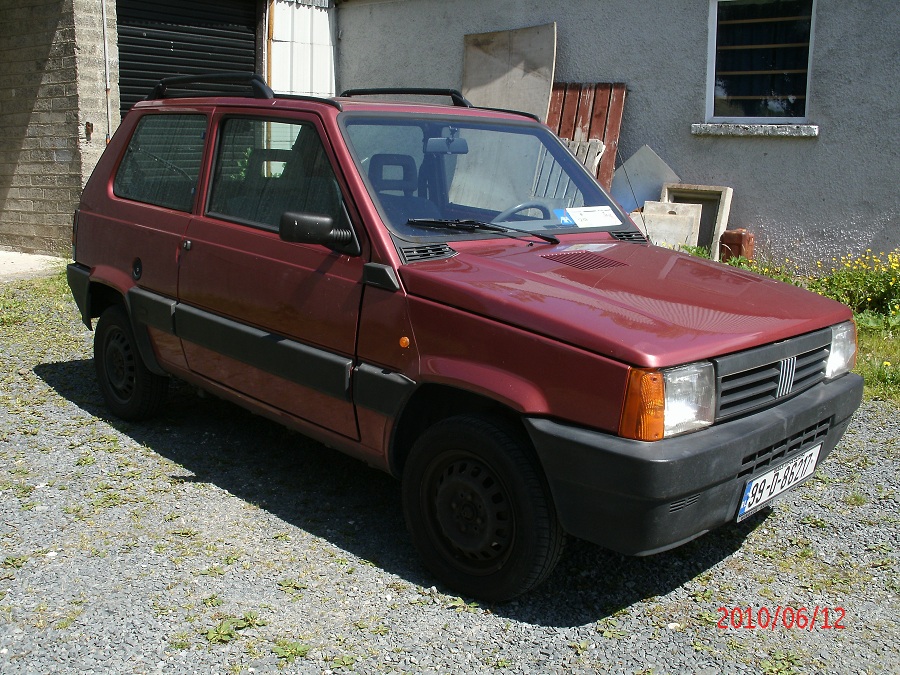 The cat.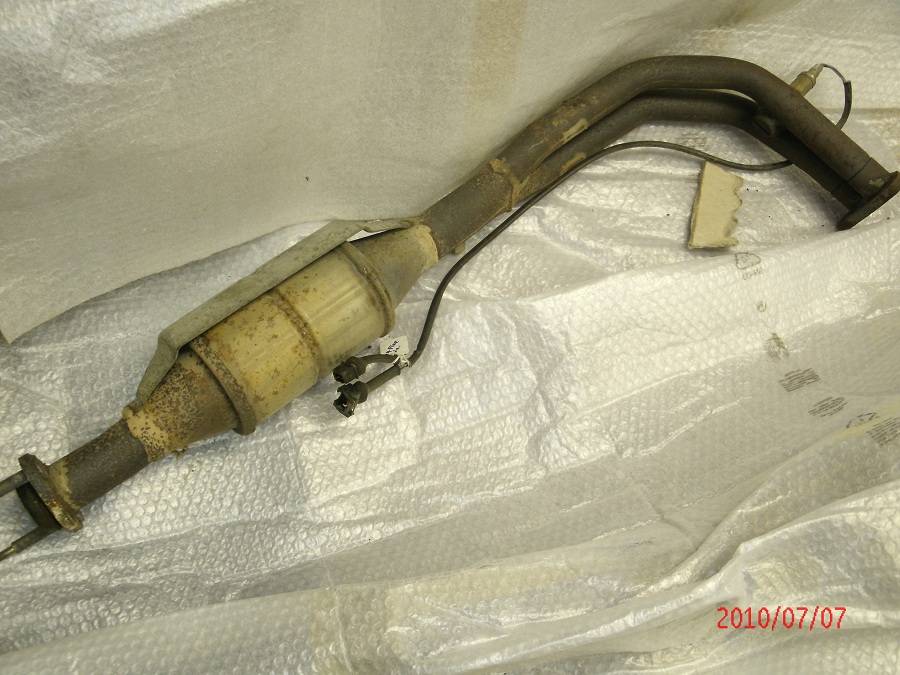 The car at the moment has no interior fitted, no fuel pump and various other little bits missing.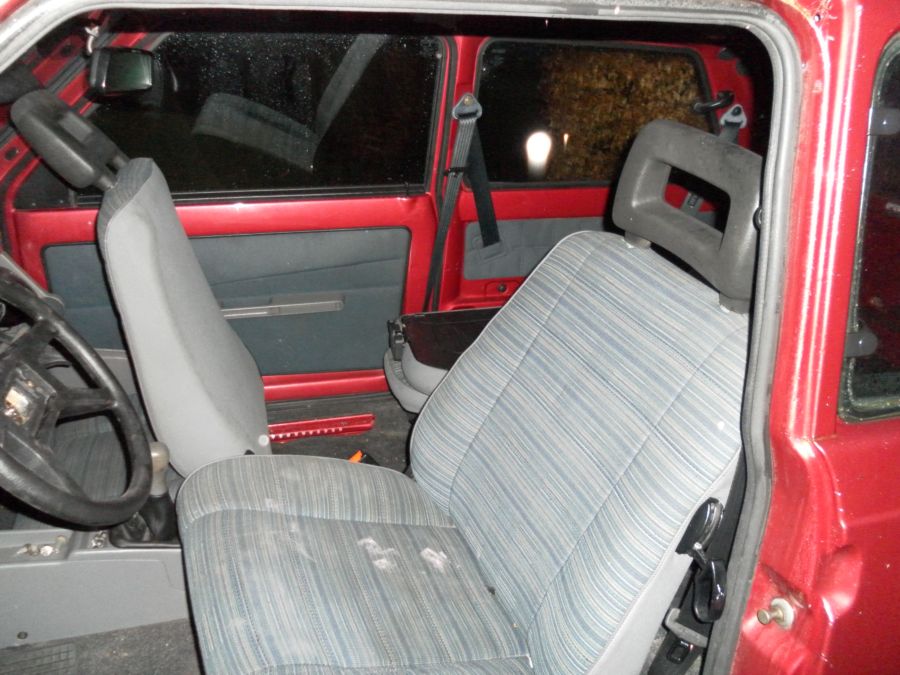 24/07/2011. As this car is pretty much in bits now I think the only plan for it is to keep the shell good as I may look at using it sometime in the future. So I've move it to here as I don't see any progress for a long time.
07/09/13. I've decided to see if I can get this Panda back on the road. At the moment it has no interior, I've had to get it a different boot lid, no trailing arms and I think most of the suspension needs replaced as I used it on different other cars. So I brought it home today. It just about fitted onto the trailer.
Its going to need a really good cleaning as it has sat in a shed for a long time now but it looks like the paint is in really good condition.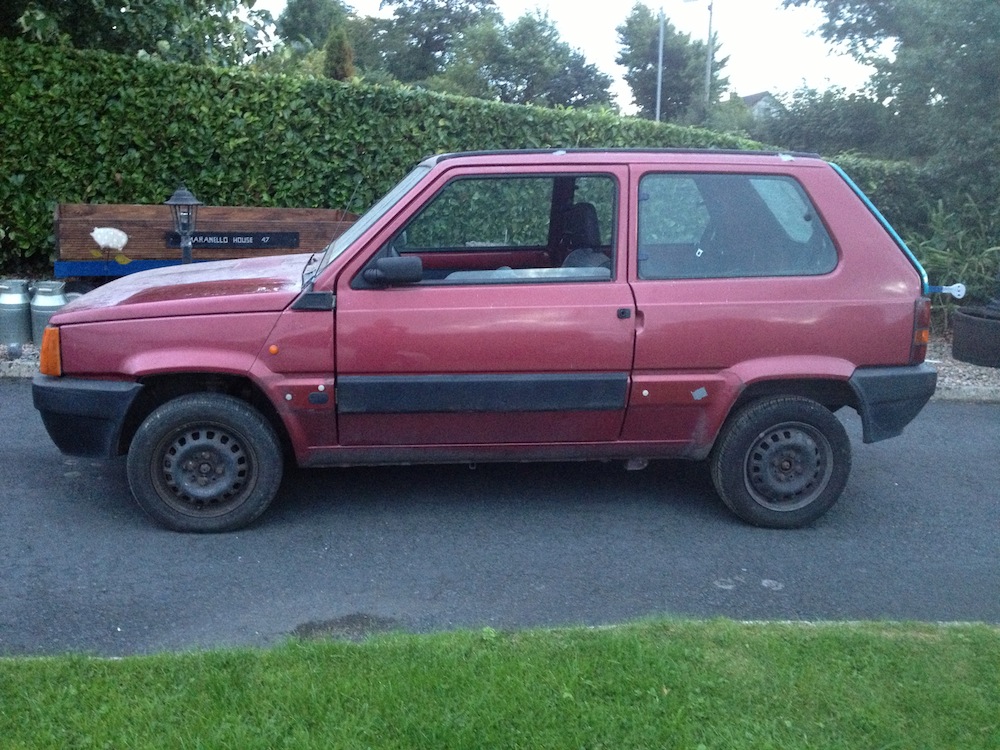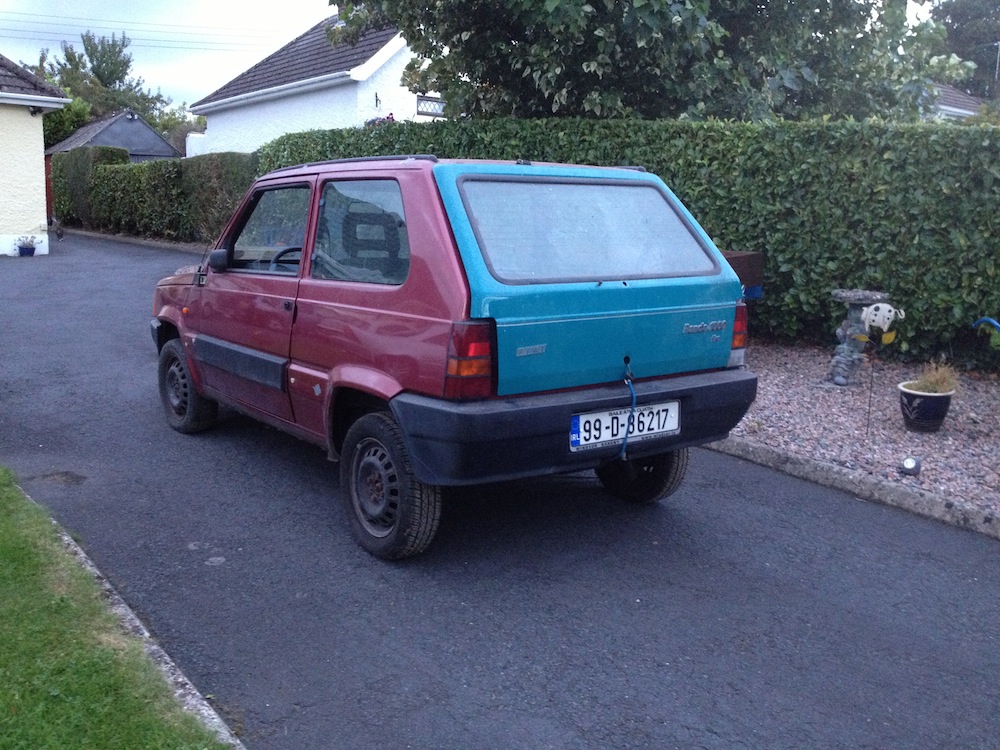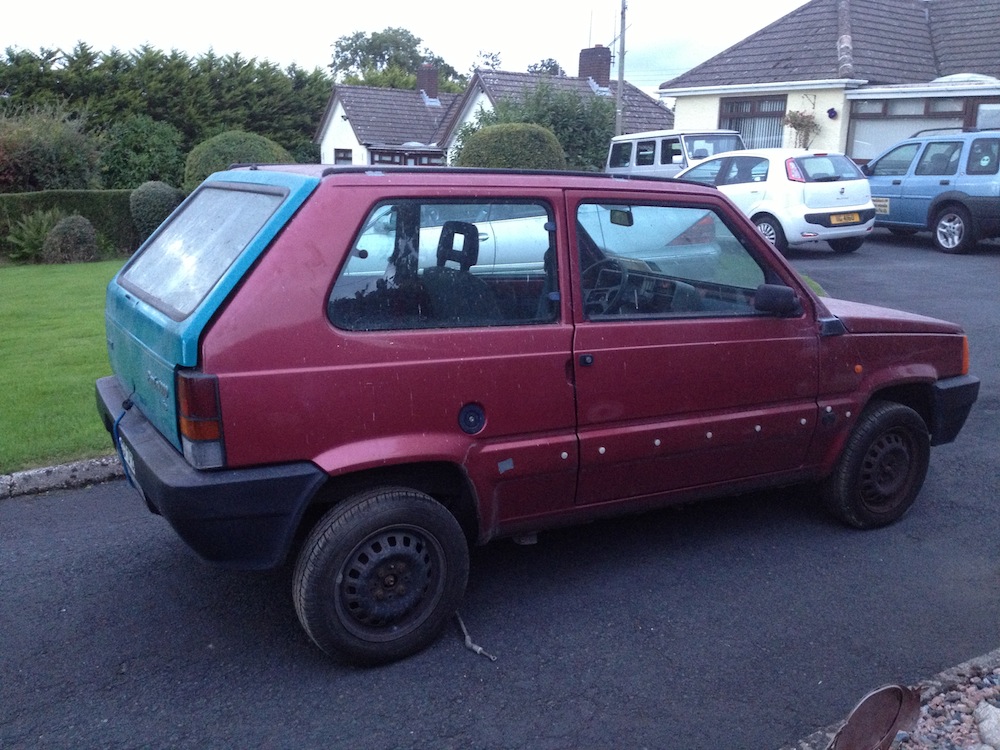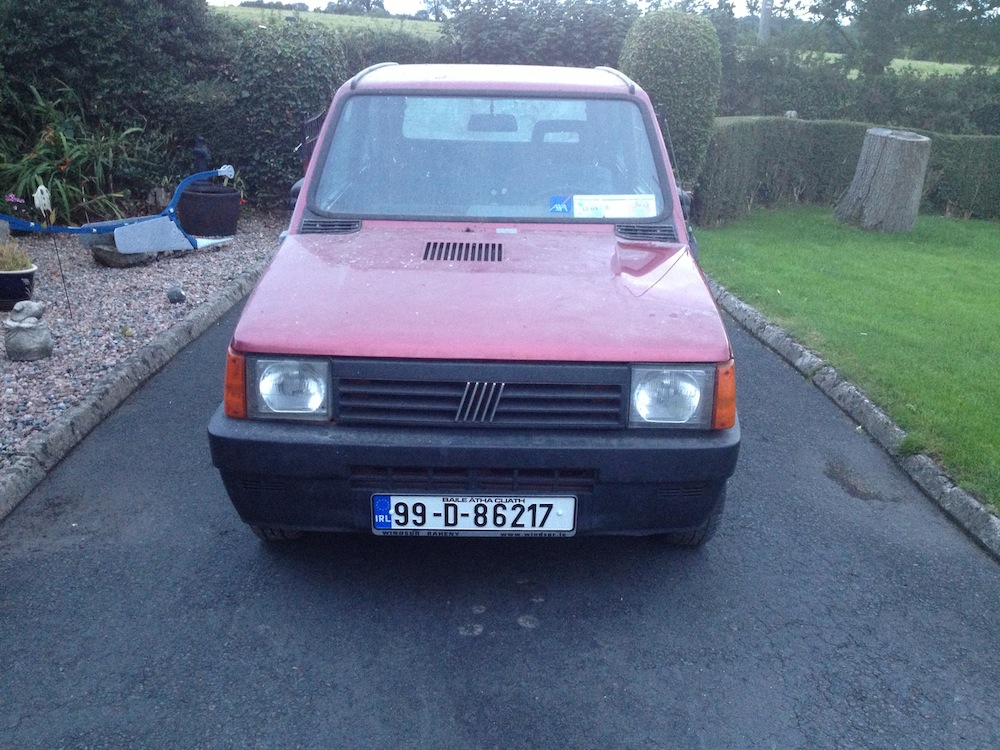 Engine bay is a bit grubby.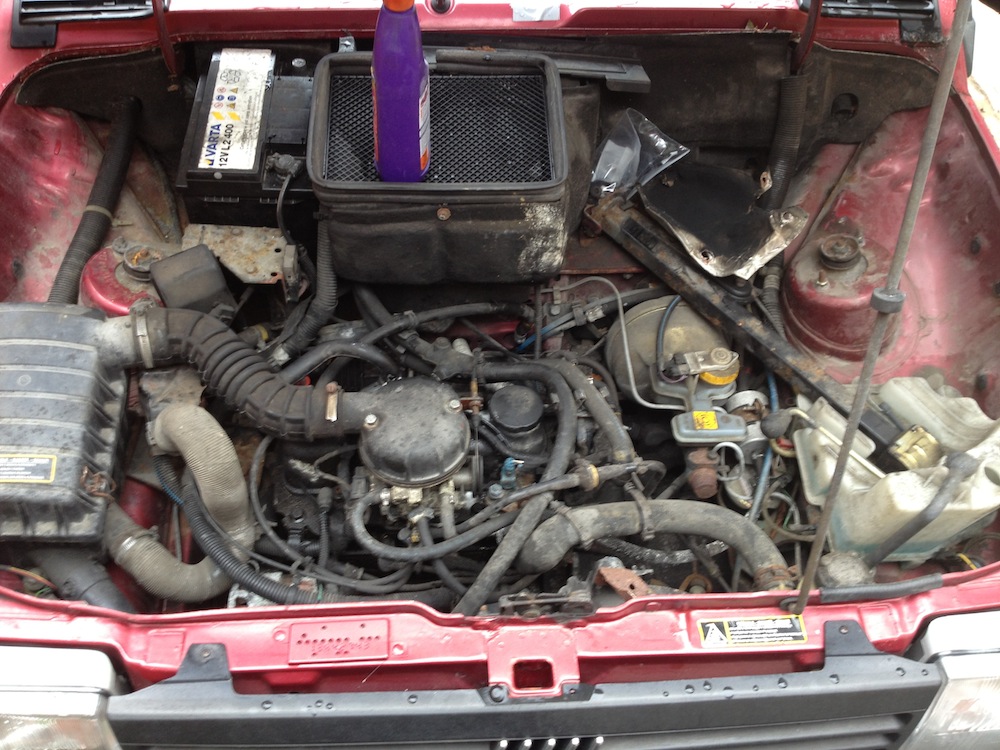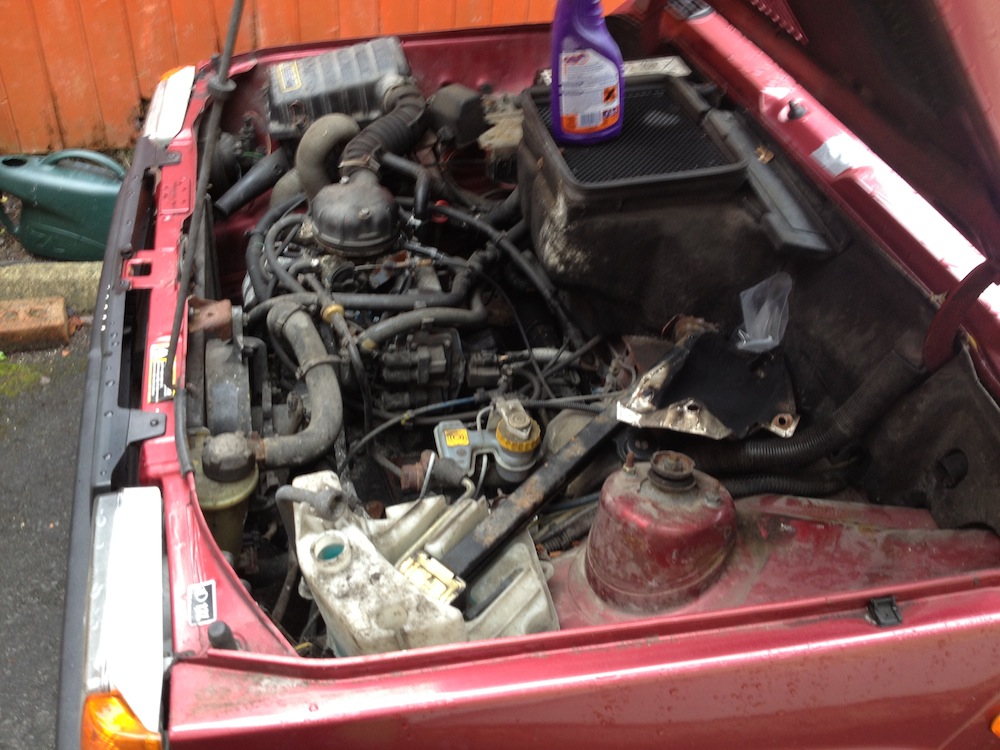 We'll have to see how the Cilit Bang works on it.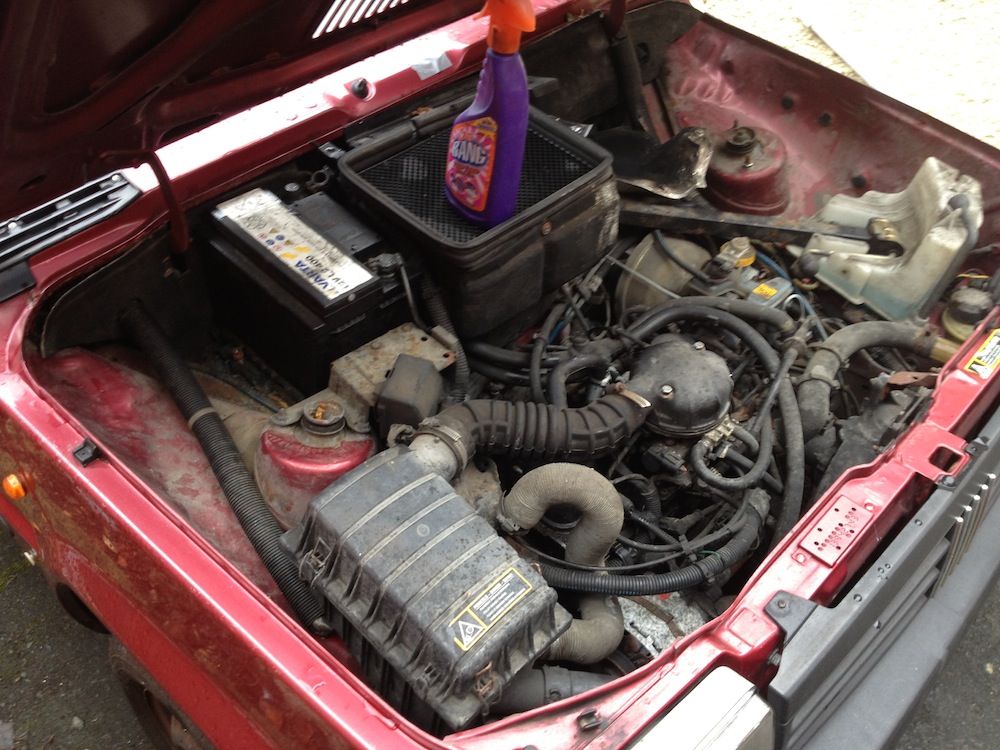 I went to fit the exhaust but can't as the manifold appears to have issues, there's a large bit of it missing! Thankfully one of the guys from the Fiat forum has came to the rescue and is sending one to me.
12/12/13. While working on cleaning the engine bay I took the chance to change the headlights over to RHD ones. The original ones have electric motors on them but I decided not to go to the extent of fitting those.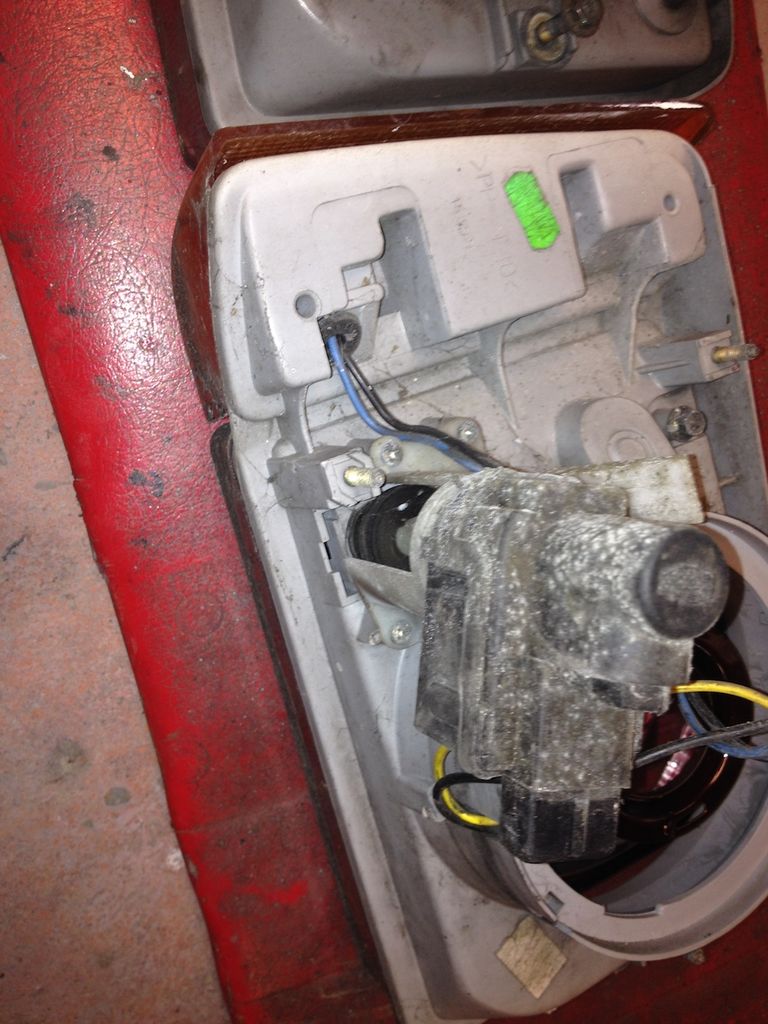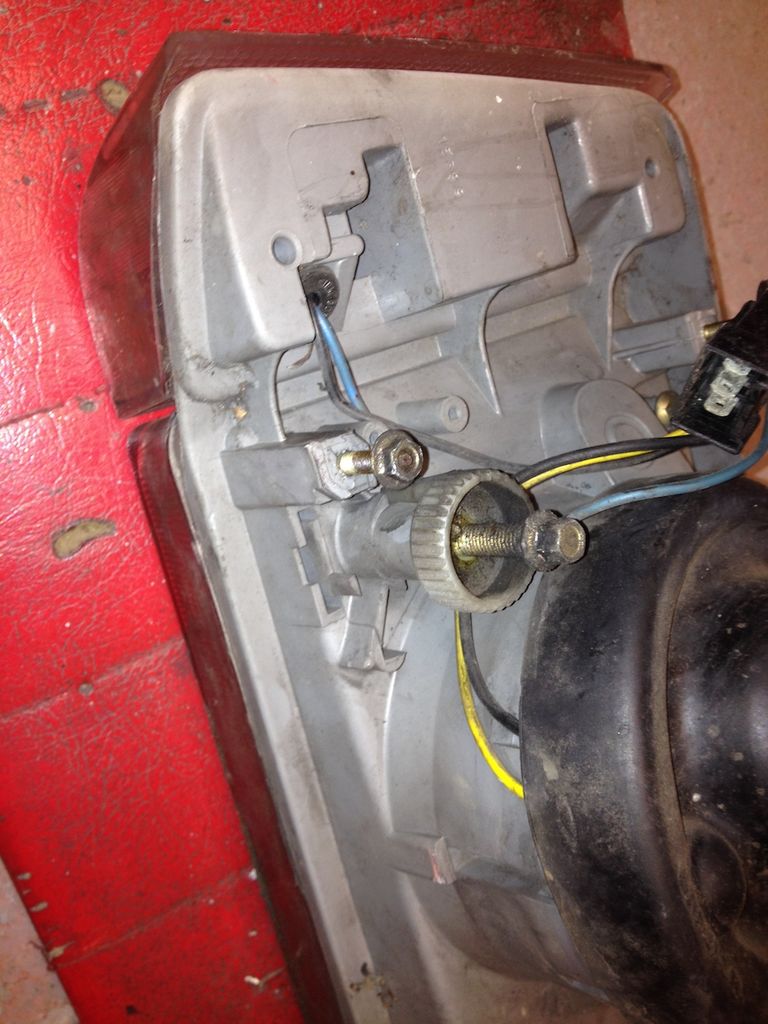 Next was to change the dash clocks as these only displayed KMH and for mot here they have to display MPH and KPH.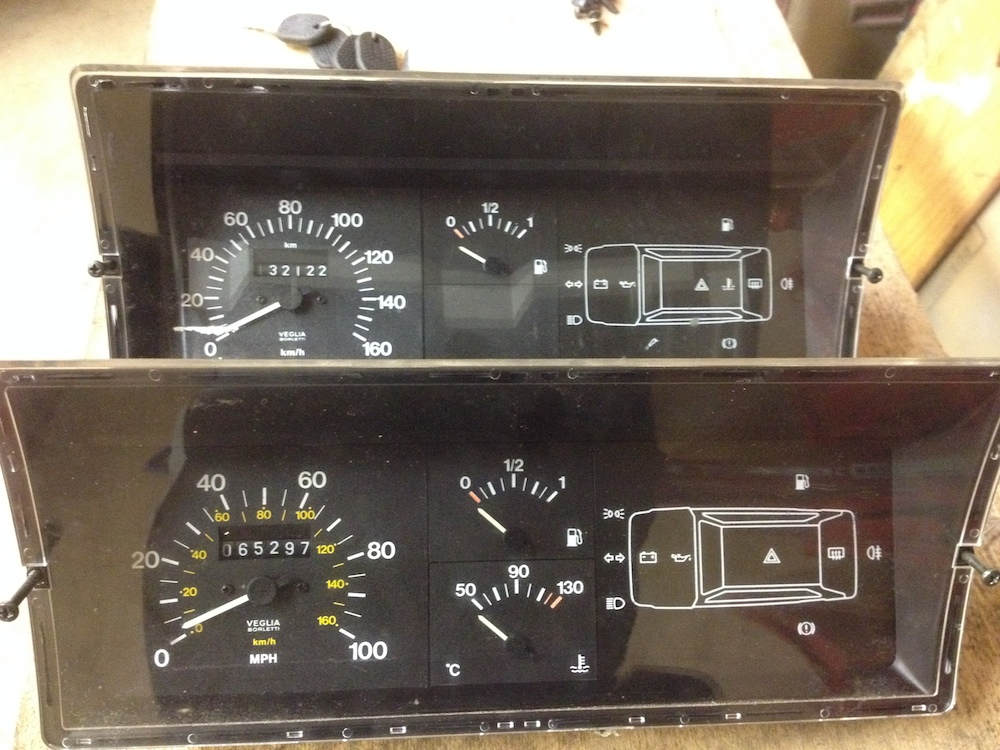 An interesting one was that the boot lock and drivers door locks were both bust. I had bought a new lock set a while back so time to change these over. I now have central locking on the car which I didn't realise it had.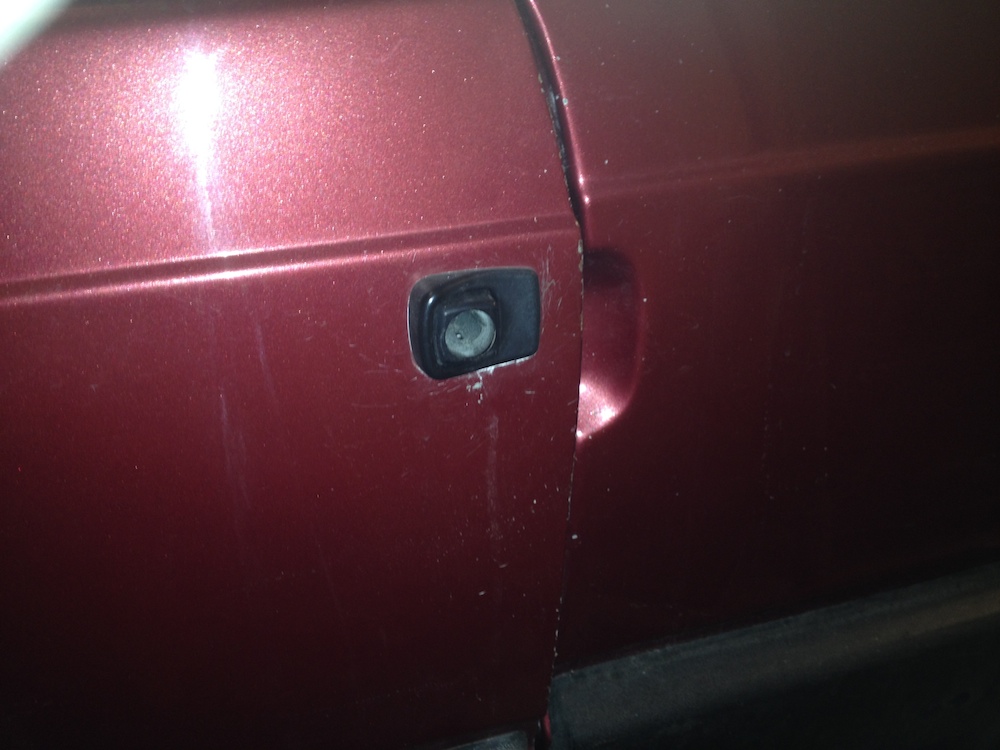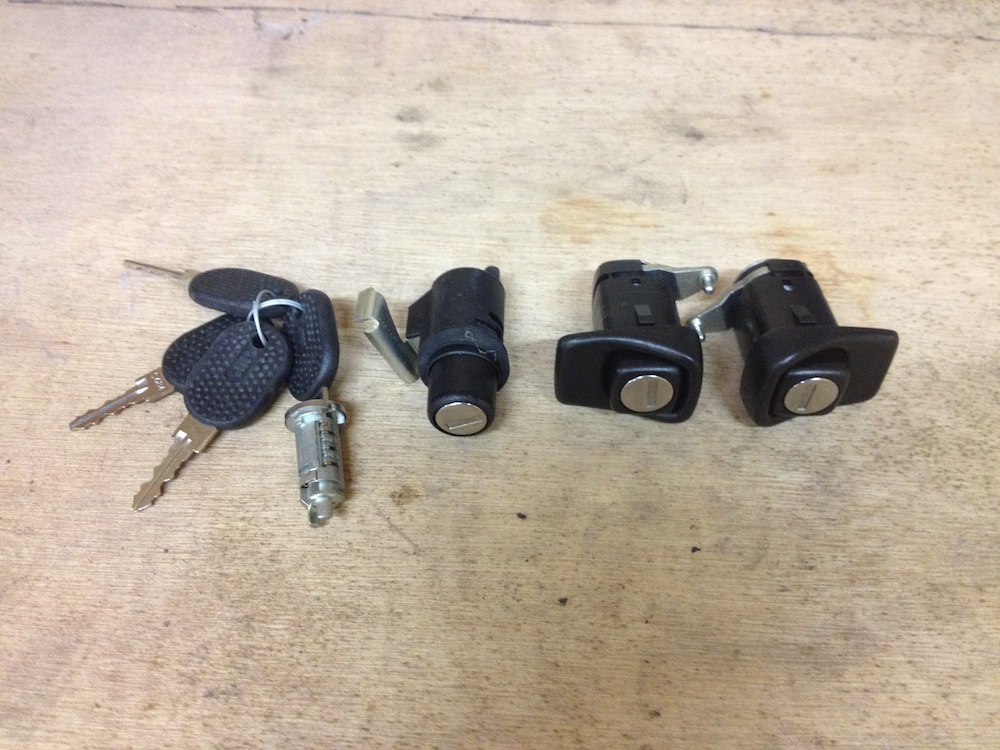 01/01/13. Door cards are a bit grubby from sitting around all this time so time for a good cleaning.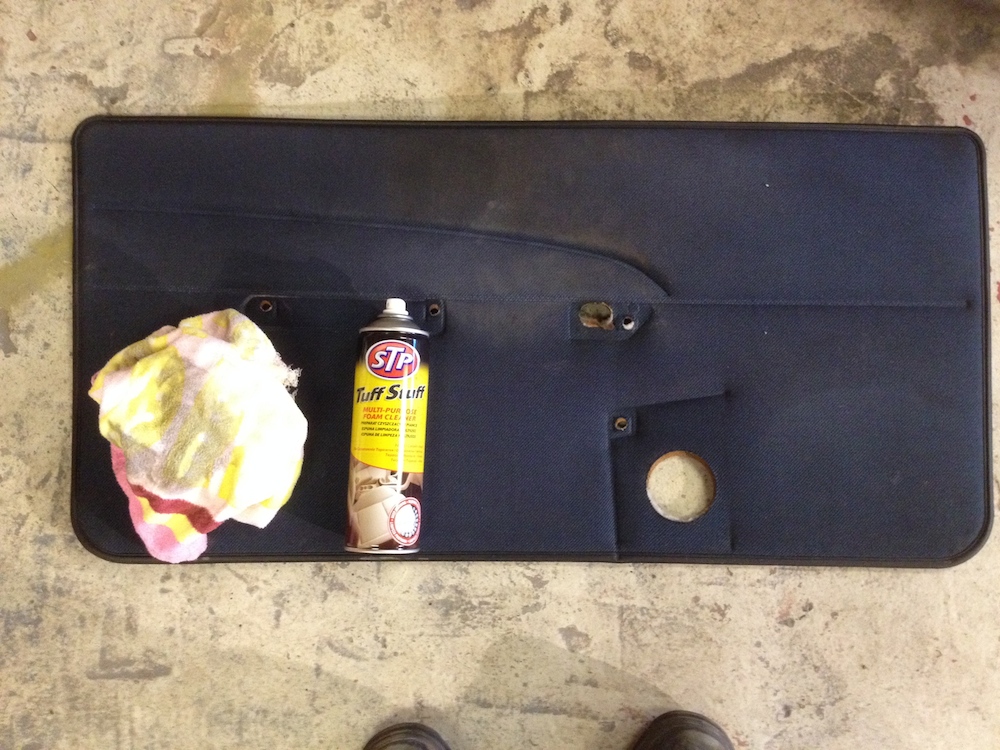 I started cleaning the door cards in between coats of paint drying on the tailgate.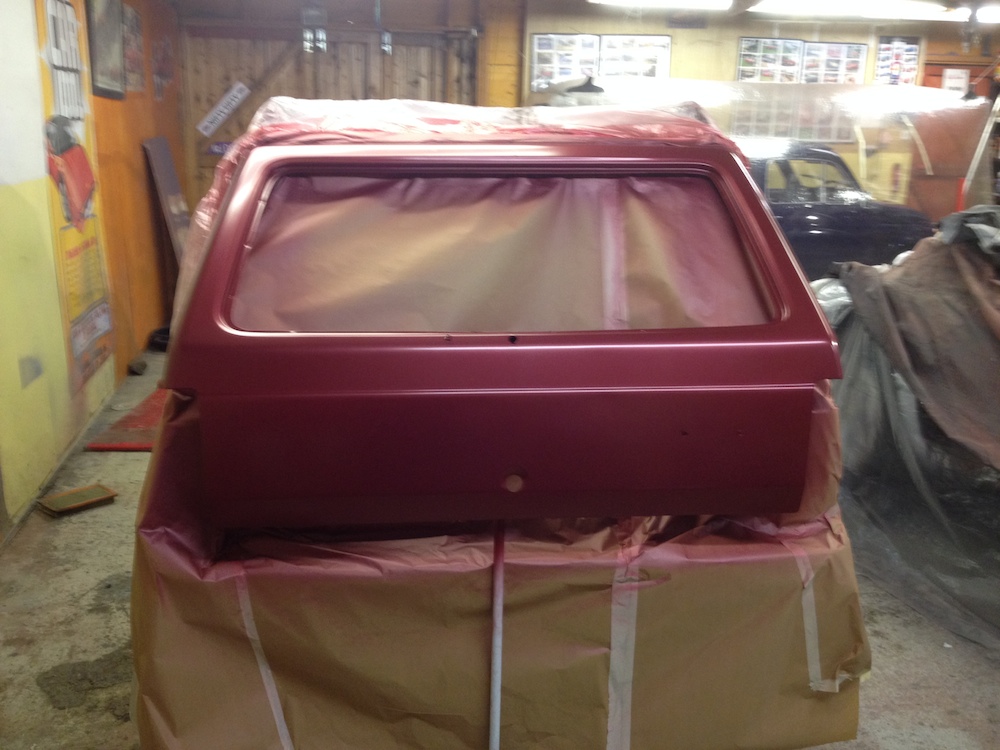 All painted, just needs flattened back and buffed up.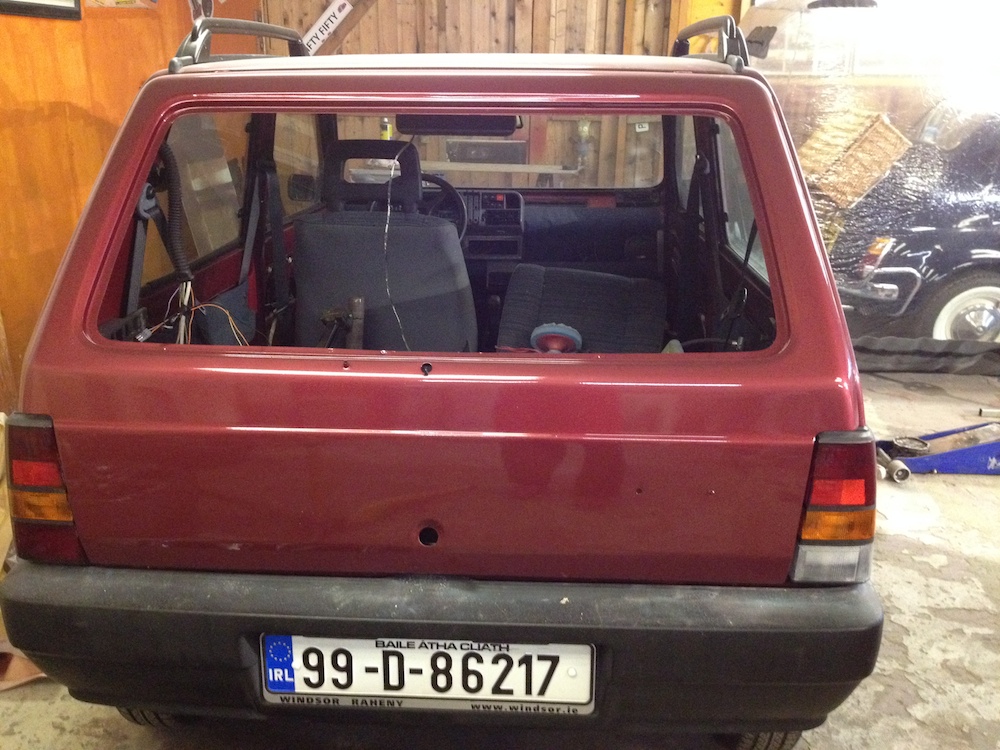 15/03. Well after what seems a long time time the interior is as good as finished. And its thanks to my mate Jim. I had an interior for the car that I really didn't like and luckily for me Jim had a Panda he was taking of the road that had an interior perfect for my car. I got it all done today and now am hopefully a wiper arm and exhaust away from have the car ready for an Mot.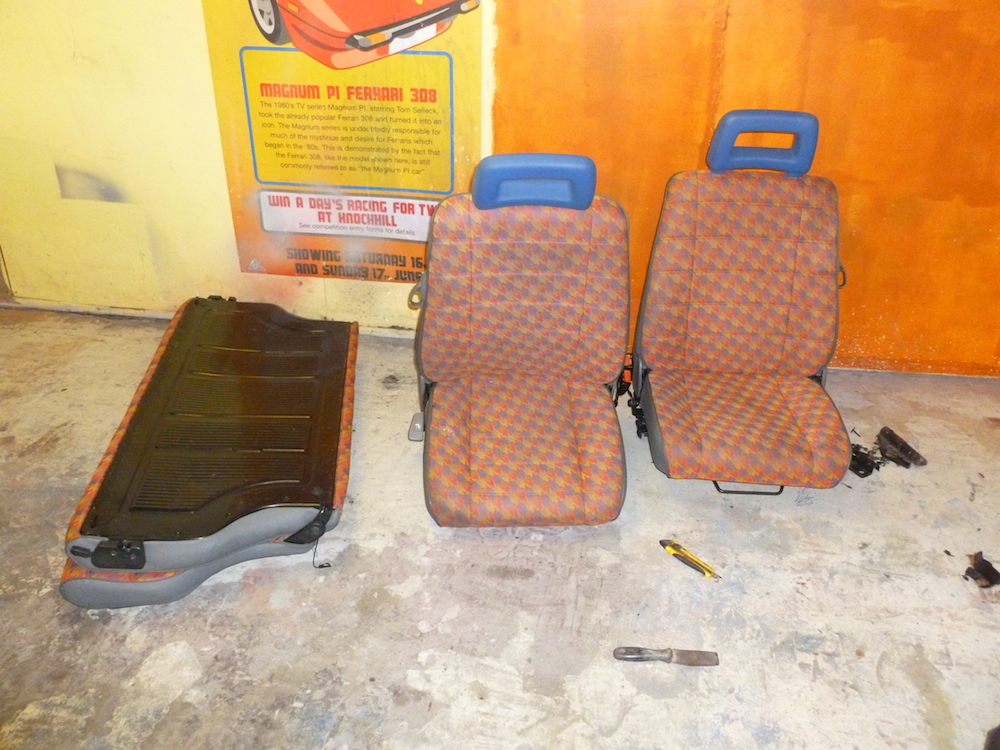 Plastic carpet before cleaning. This is ideal for a car I'm going to use daily.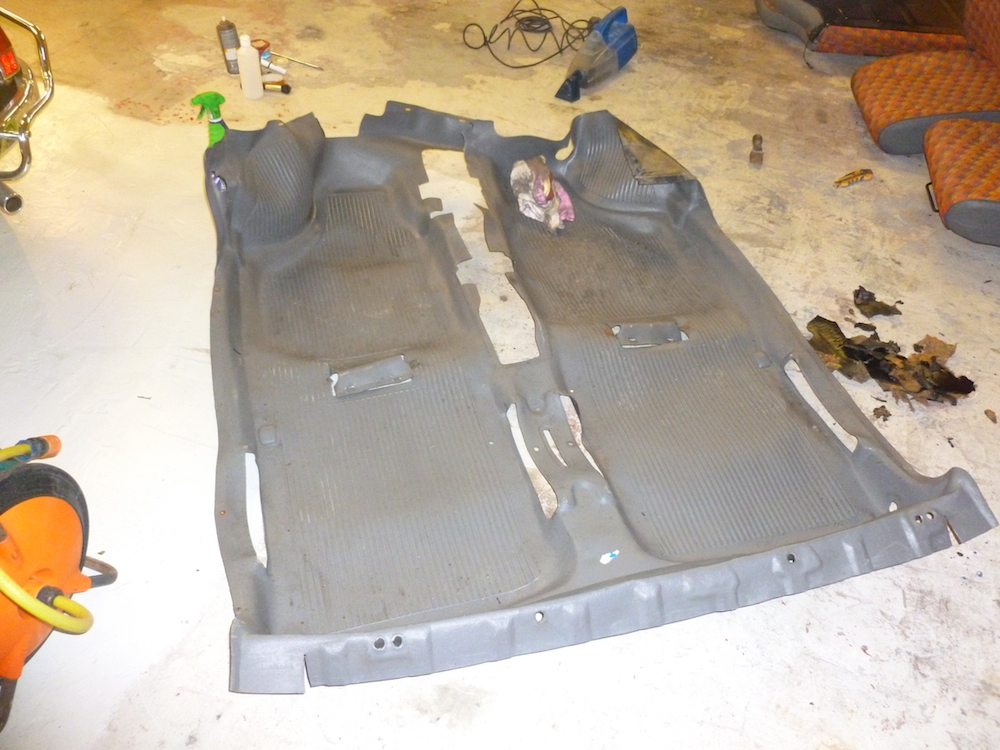 And all in. Well pleased.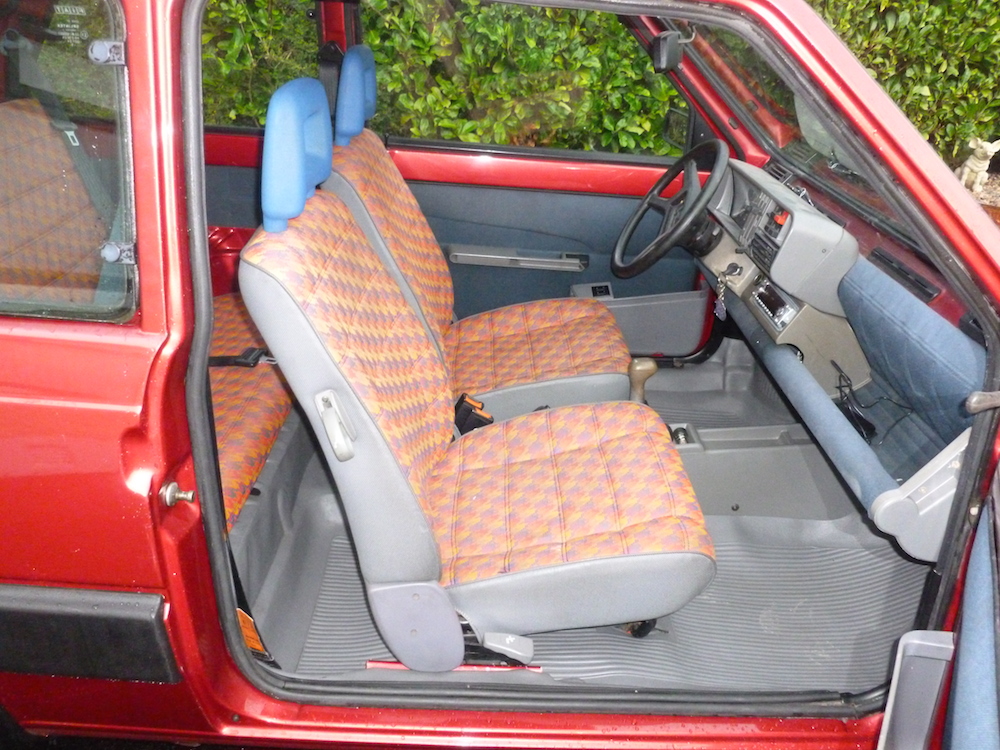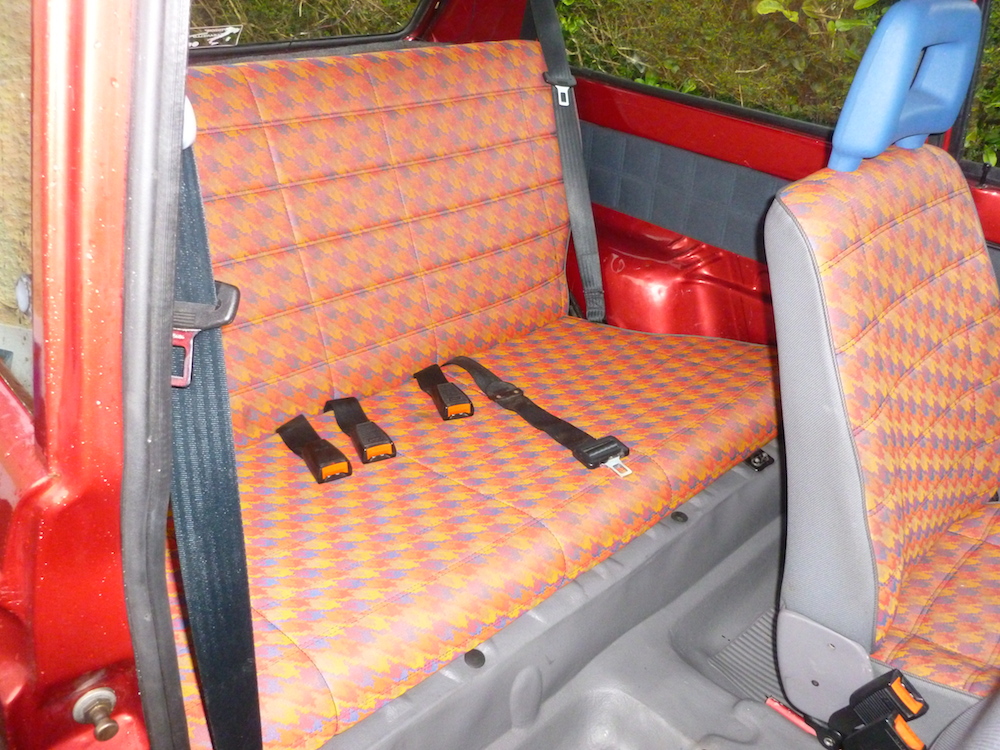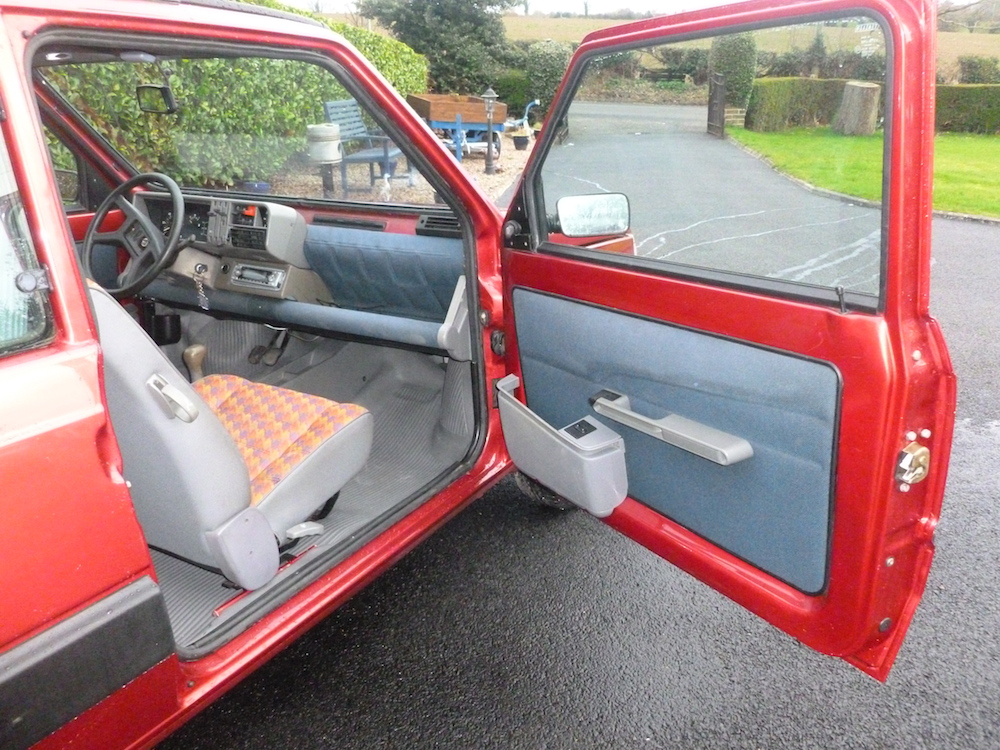 Even got time to give it a quick wash.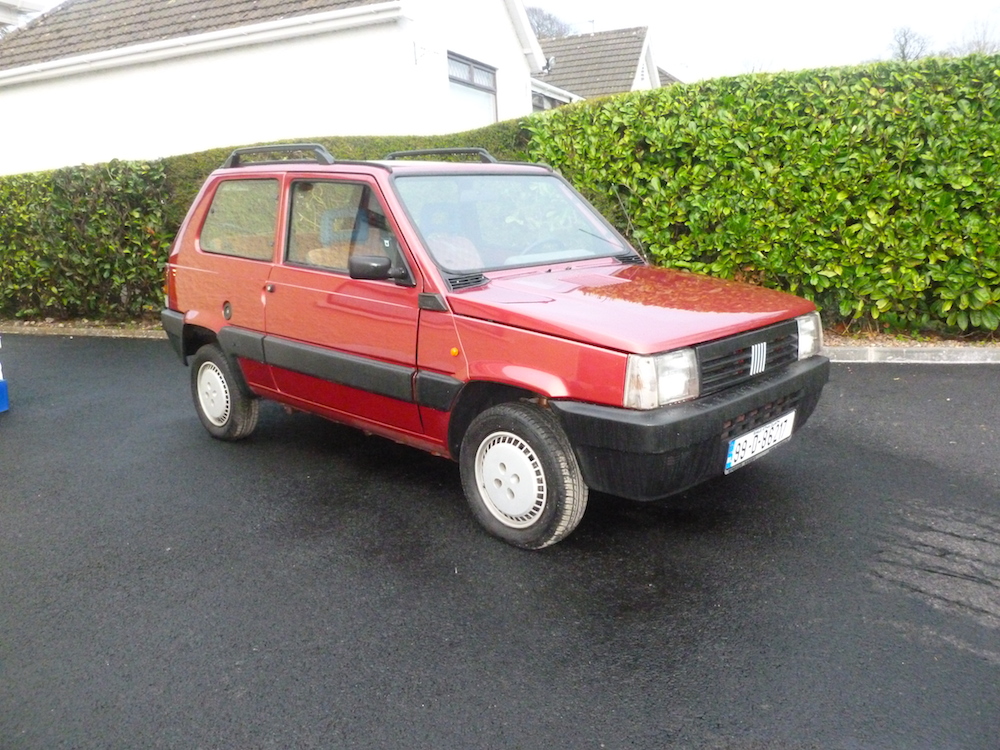 06/04. One of my friends Dave, from the Fiat forum came up trumps a couple of days ago with a front wiper, thank you to him, and today I took it to my friends at Canavans Tyres to have the exhaust sorted.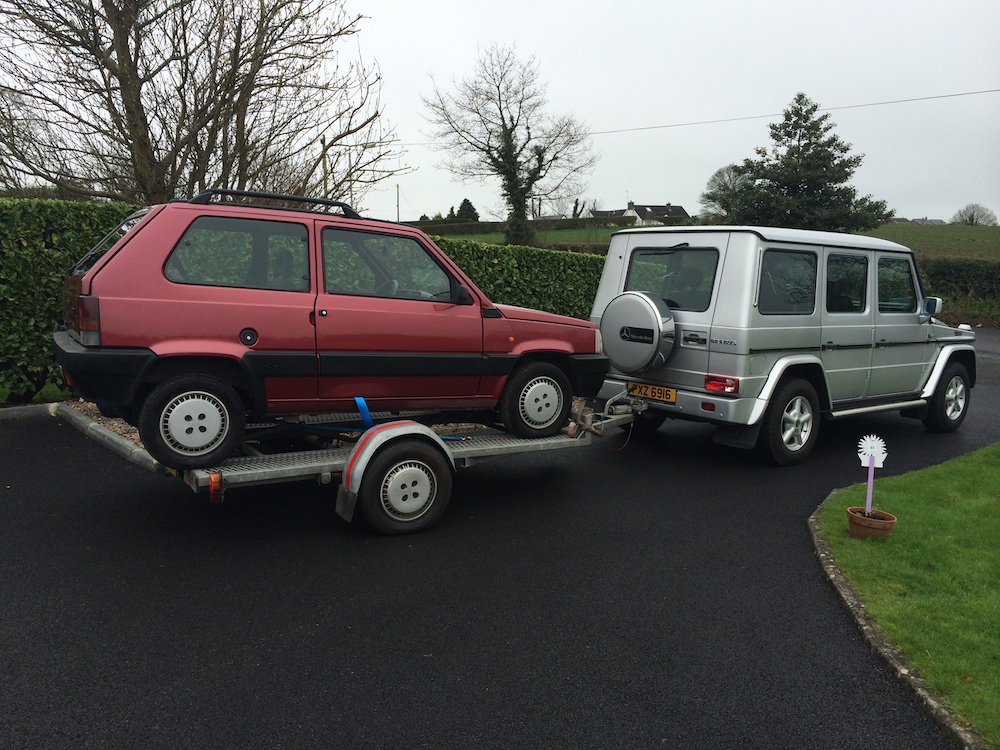 At Marks waiting to be fettled. I'll have it back Monday/Tuesday. Marks putting a new tire and checking the head light alignment.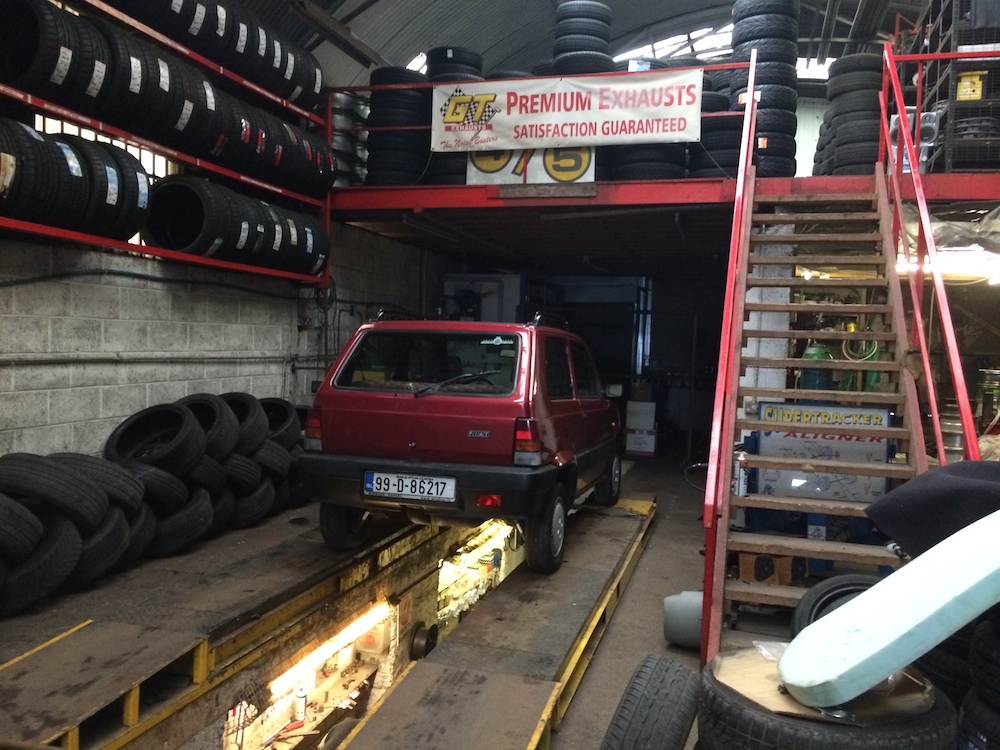 18/04. The new front ball joints and control arms arrived today. They will be going on tomorrow.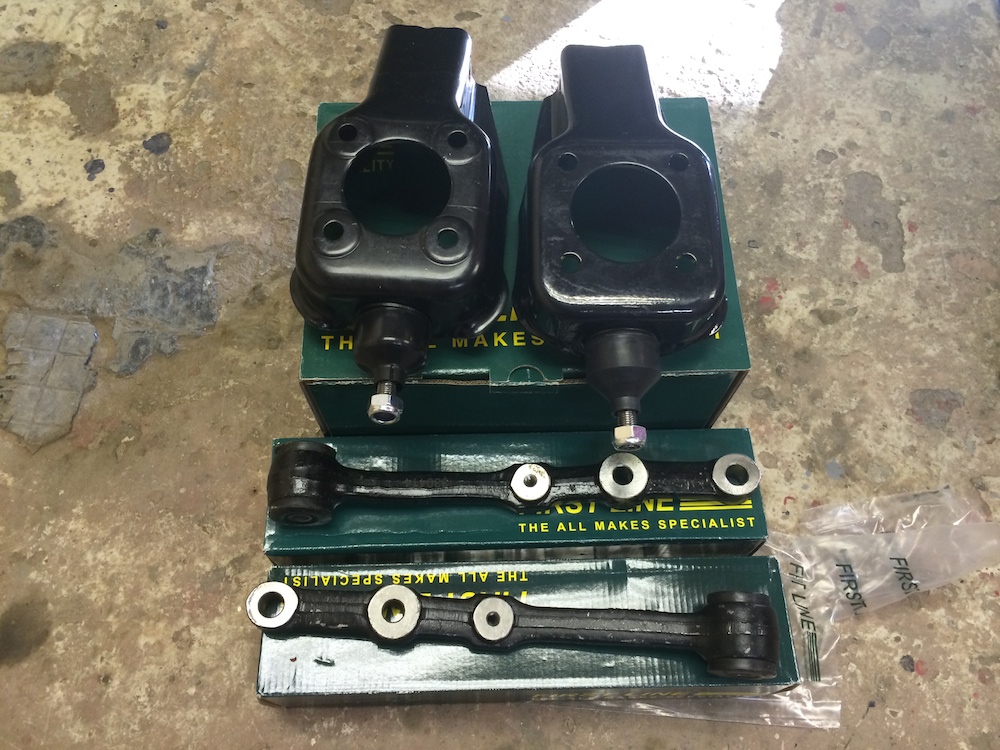 19/04. All the old bits off ready for the new arms and ball joint to go on.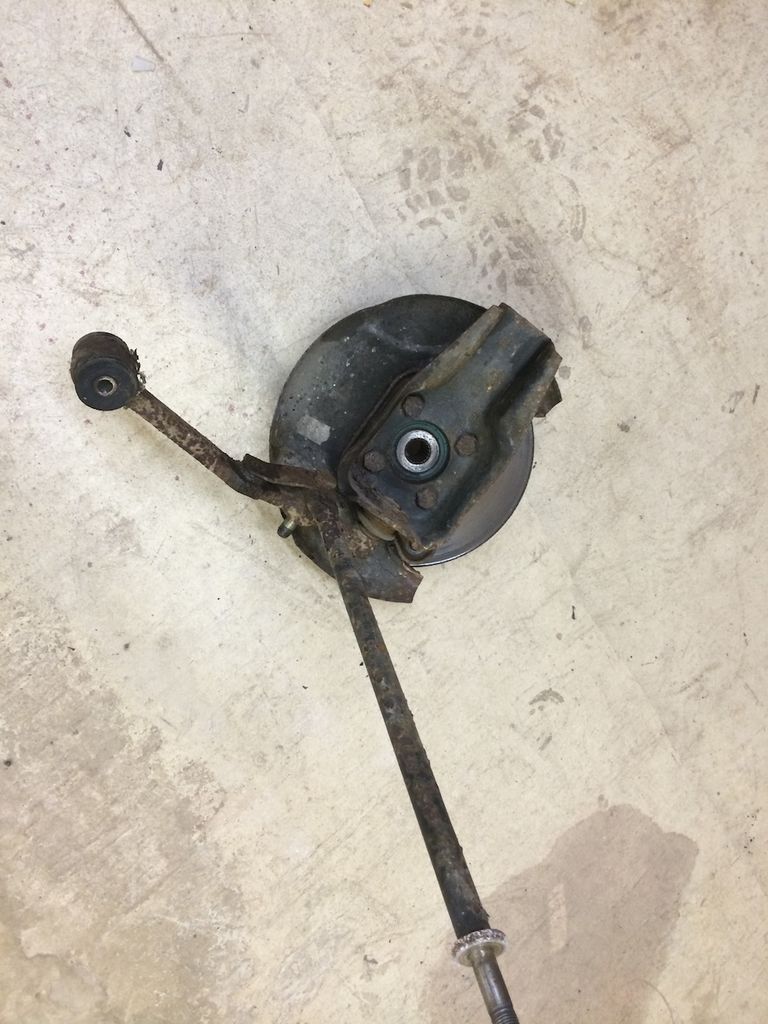 The paint on the sills over the years has worn through to the primer and as time is limited I decided just to finish them in black stone chip.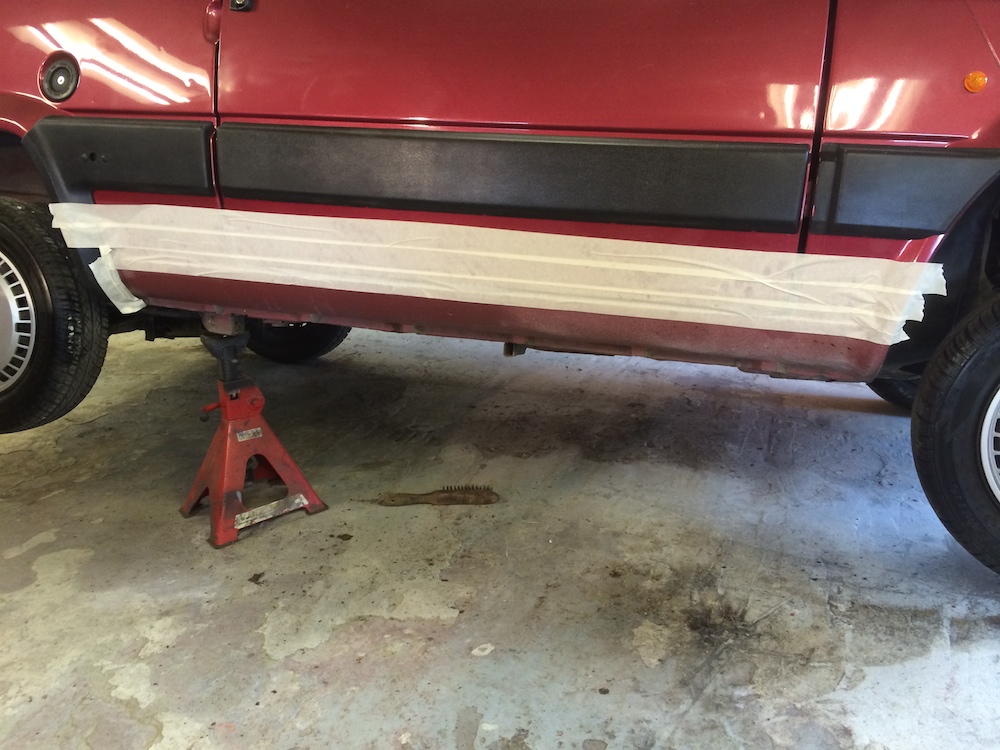 One of the things that has been bugging me was the front bumper was slightly out of line on the drivers side. On investigation it turned out the bracket has been bent obviously by hitting something at some point in the cars past. i took it off and it was easily straightened.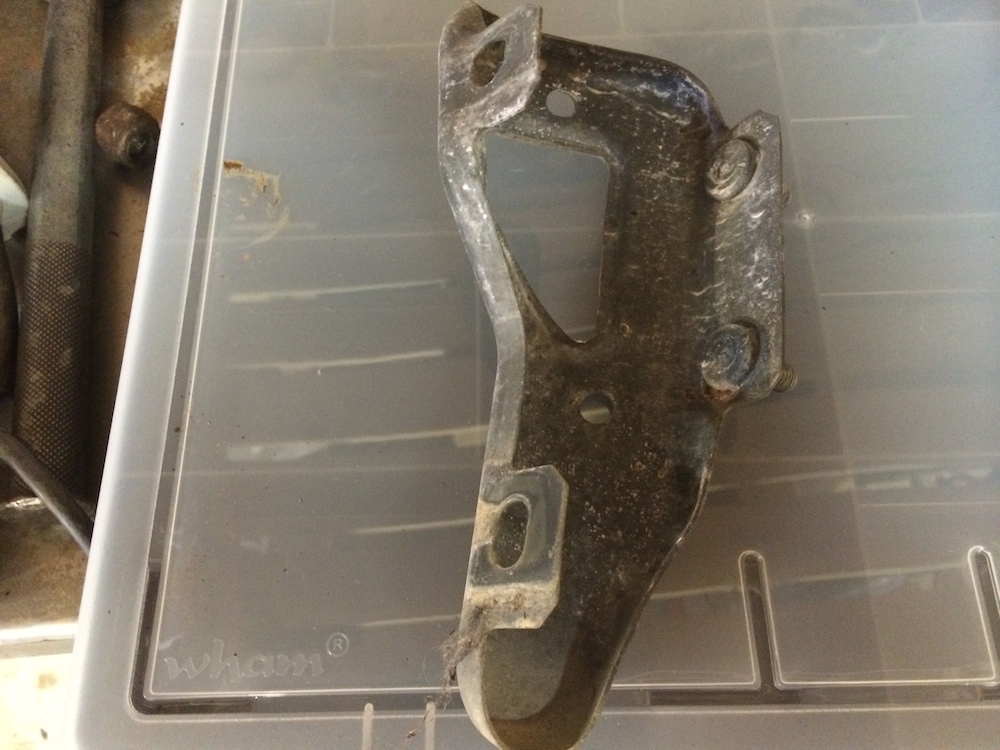 And after a decent polish Jolly is finished. All I have to do now is sort out the mot and get him UK registered.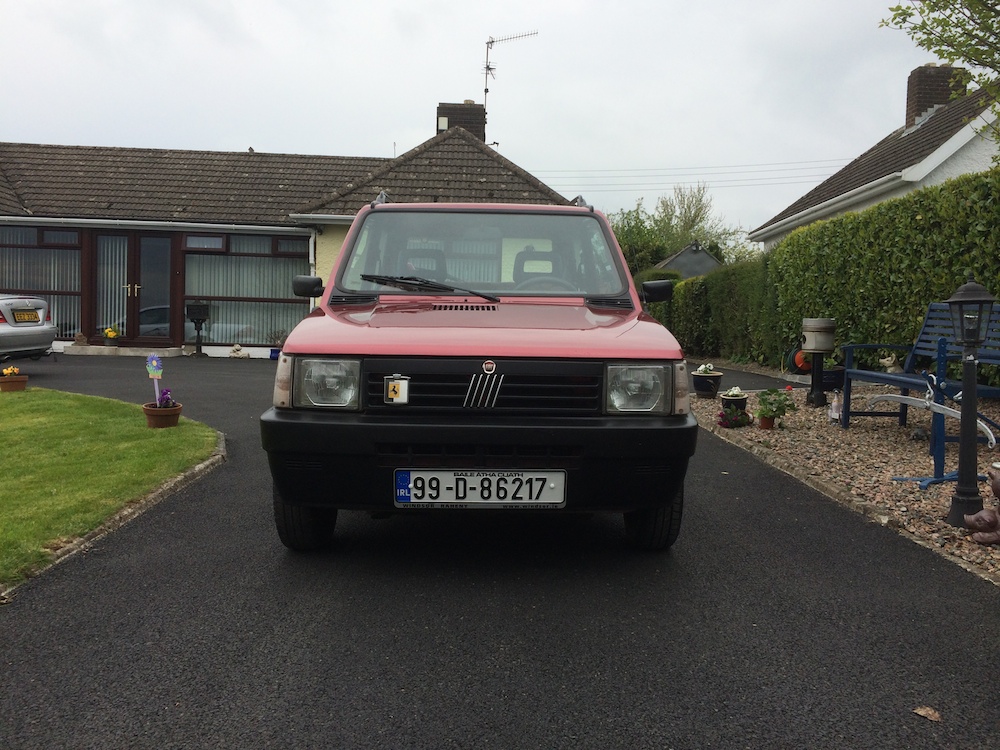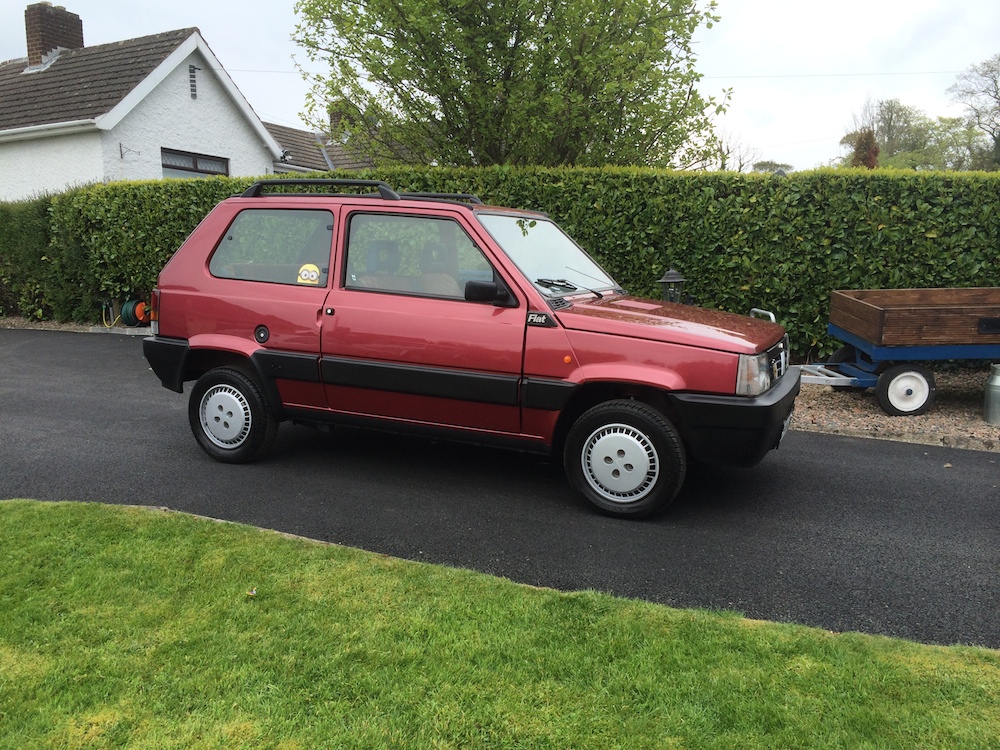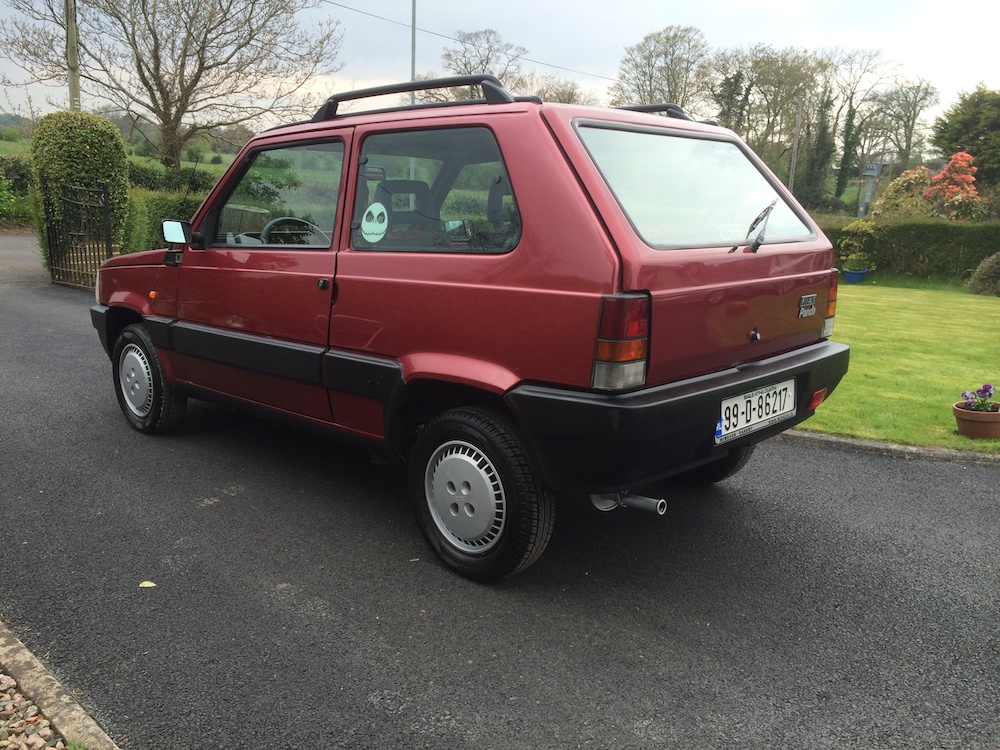 I even managed to put a couple of little personal touches to him.